Posterize Photoshop Action Free Download
Use this free posterize Photoshop action to create cool political campaign and election posters in just a few seconds. Transform your photos into election posters with this amazing posterization effect.
For this portrait photo effect, a gradient map with 4 colors  was added to create the posterize look. This effect works great in graphic design for making posters.
So, if you want to create an election poster with a cool design, this free Photoshop action is just the thing you need! The posterize Photoshop action adds a fake vector effect to your photos.
The vector portrait effect is obtained by reducing the number of colors to only four. Also using vibrant colors we create the vector effect.
Also, this posterize free action has all the layers intact so you can fully customize it, especially the colors. All the effects are in separate layers, so you can edit the end result.
There you have it: an useful Photoshop action for making classic retro poster effects, Obama hope style posters, election posters, political campaign posters, vector posters, etc.
About Photoshop Actions
If you've never used Photoshop actions before and you are unsure how to use them, please take a couple of minutes and check out these great resources:
How To Install Photoshop Actions
How To Use Photoshop Actions
Because they save a lot of money and time, Photoshop actions are really popular among graphic designers.
How To Use Tutorial
Read the Obama Hope Poster Photoshop Tutorial and learn how to use this Photoshop action to get the best results.
How To Posterize a Photo in Photoshop
This stylized portrait with a smooth posterize Photoshop effect is made using the Posterize adjustment layer and the Diffuse filter.
If you change the Gradient Map colors, you can obtain a Photoshop posterize black and white effect.
The Obama Hope Poster
This portrait effect is called the Obama Hope poster and it is a really popular effect.The poster for the 2008 presidential campaign of Barack Obama was designed by the artist Shepard Fairey. This poster was widely described as iconic and was used by other artists as inspiration.
The Obama poster consists of a stylized stencil portrait of Obama in solid red, beige and two tones of blue(dark and light).
Our action can also be used to make pop art Photoshop posters and even ink posters if you choose the black and white colors.
Item Details
This freebie contains a Photoshop actions to create posterized photo effects with endless results.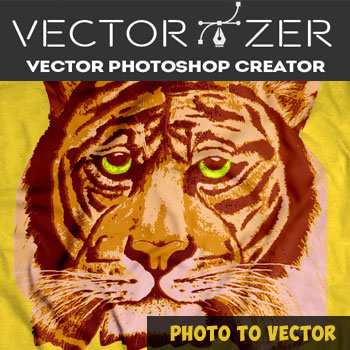 DOWNLOAD THE VECTOR PHOTOSHOP ACTION
Do you really like this item? Don't forget to Share! Thank you 🙂