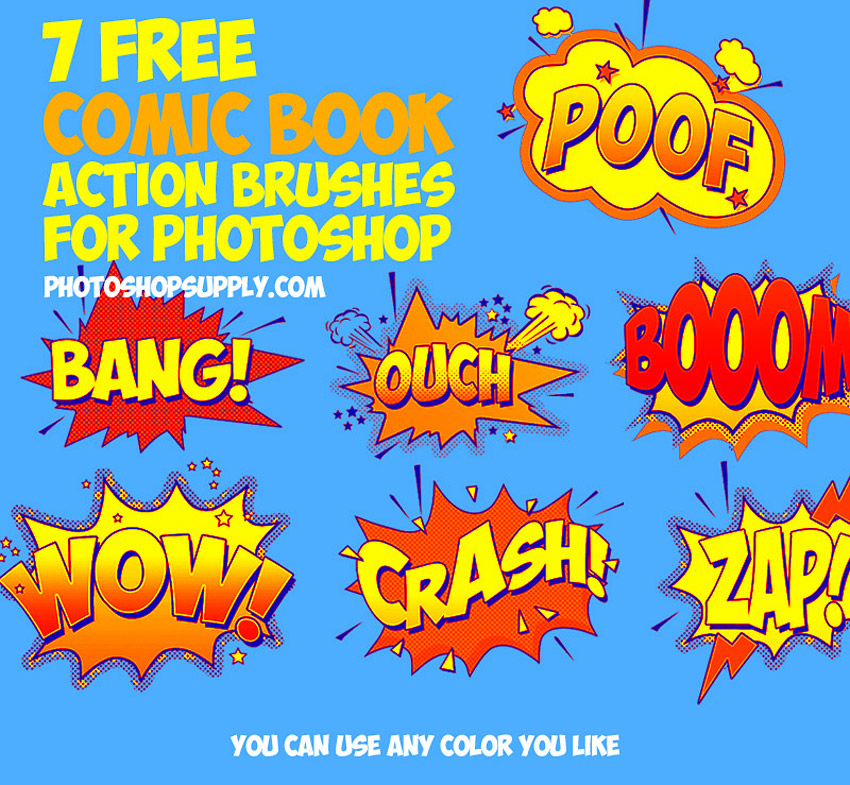 Free Comic Book Sound Effects Brushes
Download these Photoshop comic book sound effects brushes for free and use them to add comics effects to your photos. This set includes 7 comic book action sounds brushes that you can use in Photoshop.
Simply download the ABR file and you have some cool comics effects to play with. You can use these Photoshop comic book action brushes to create comics photo effects.
To make a comics book photo effect in Photoshop you can use the Posterize adjustment layer. Or you can try the Poster Edges filter. As you can see in the preview images you can change the color of the brushes really easy and it will look great!
So, if you want to add comic action sound effects to your images, this free ABR file is great! Inside the pack you have a PSD file that contains all the comic sounds with color effects. You can easily add layer styles, use different color combinations, etc.
These comic book brushes are made using my Comics Book Photoshop Creator that includes these comic book actions in editable vector format.
Of course , the premium version is better for professional graphic designers. You can edit the text, modify, resize, change color.
About Photoshop Brushes
If you've never used Photoshop brushes before and you are unsure how to use them, please take a couple of minutes and check out these great resources:
How To Use Photoshop Brushes
The Photoshop brushes are extremely popular among graphic designers, saving them a lot of time and money. Among the best Photoshop brushes are the paint splatters, brush strokes, floral brushes, textures brushes, etc.
Item Details
This freebie contains 1 Photoshop ABR brushes file and 1 Photoshop PSD file to add comic sound effects in Photoshop.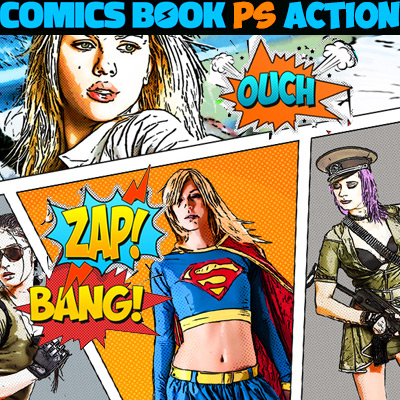 DOWNLOAD THE COMIC BOOK ACTION
Do you like this item? Don't forget to Share! Thank you 🙂