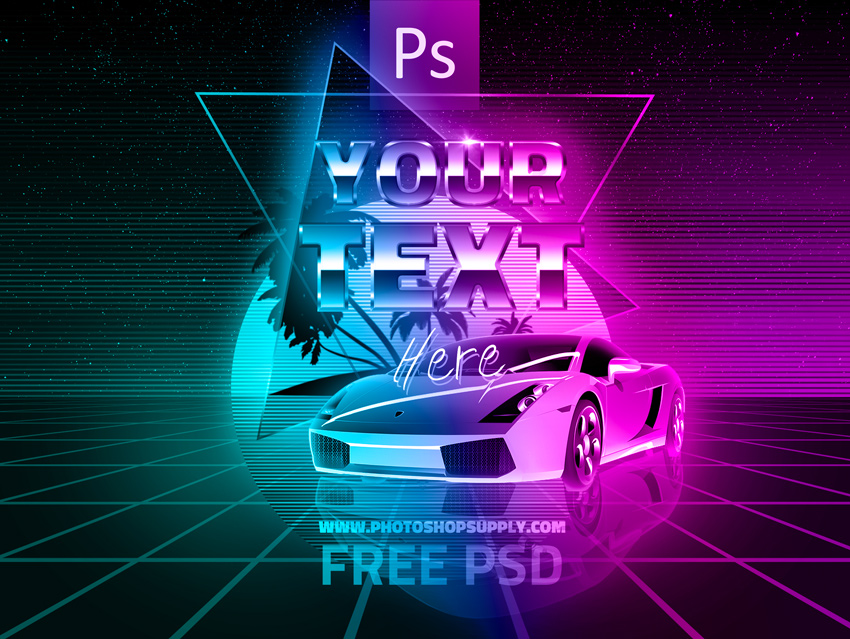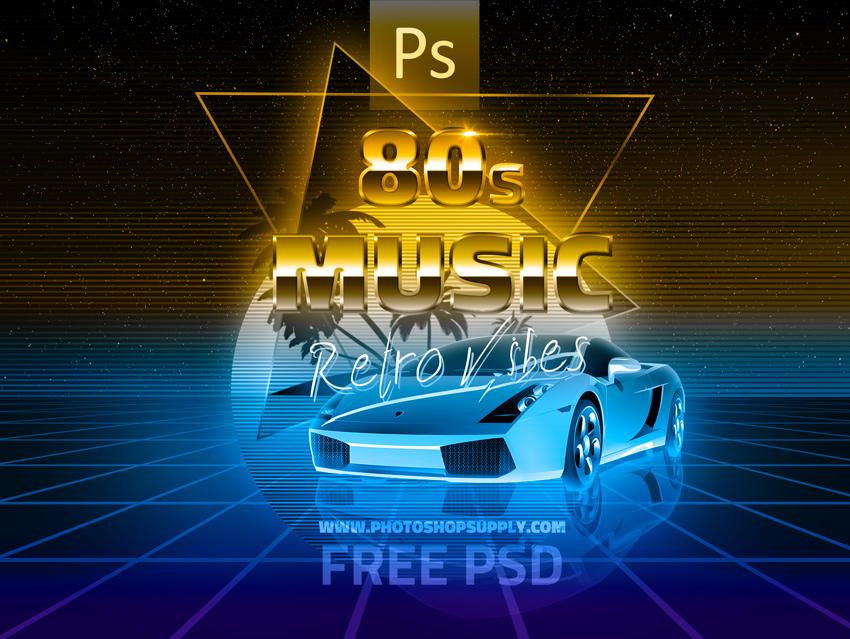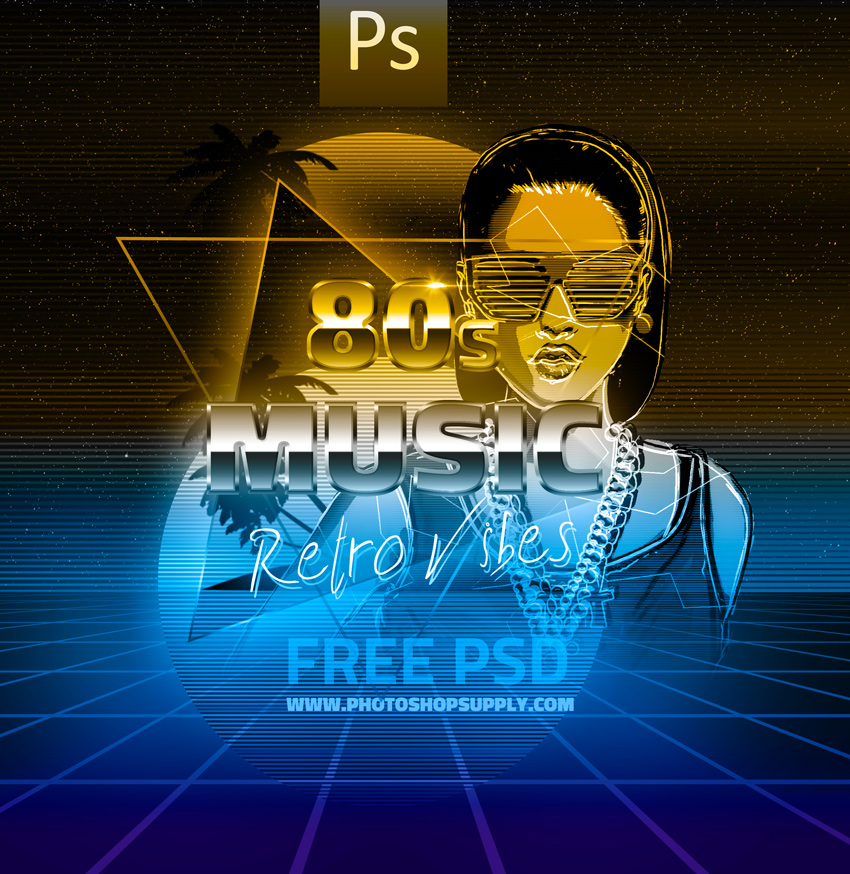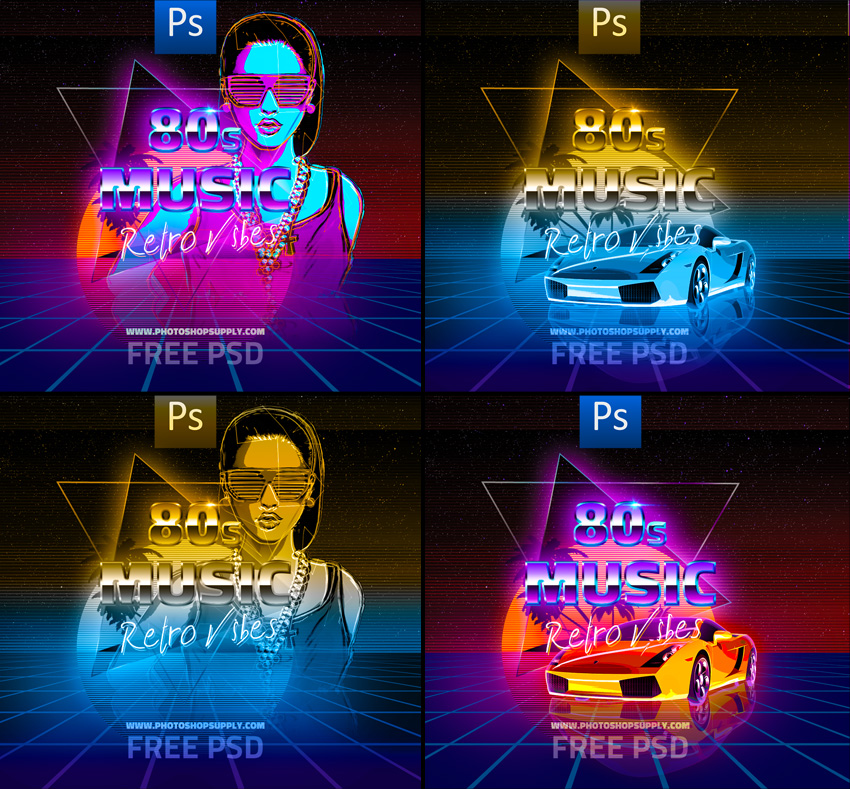 80s Retro Text Effect Photoshop Free PSD
Download this cool ★ 80s retro text effect PSD for free and use it in your graphic design projects.
Do You Really Miss The 80s?
Sometimes I feel nostalgic when I think about the 80s. What I liked the most was for sure the music, the 80s new wave.
Even now, after all this time, I listen Depeche Mode, Pink Floyd, The Cure, Simple Minds and all the other great artist of the 80s.
So, I decided to make a free PSD poster mockup for all the 80s fans out there.
80s Retro Poster with Text Effect (Free PSD)
This is a free layered PSD file with a cool 80s background. You can edit the PSD file and modify the 80's retro typography by adding your own text message.
The PSD has the layers and layer styles intact so you can customize the appearance. The 80s text effects are in separate smart objects, so you can change the text, font type, layer style, etc. You can move all the elements including the text effect.
For this poster I used popular 80s background patterns. In the back I added an 80s grid background with stripe lines. The 80s neon grid is a classic choice for this kind of poster.
Would you like to create your own typography-based logo in the 1980s style?
You can easily create your own 80s logo with this free mockup. Download the PSD file and add your text or logo inside the smart objects. You can choose from three predefined color tones or you can create your own neon gradient style.
80s retro poster designs are inspired by the new wave and soundtrack of classic 1980s films(science fiction and action movies), videogames, cartoons and television shows. The vibrant neon colors give the design a retro-futuristic look.
So, if you want an amazing 80s retro Photoshop logo in just a few seconds, use our freebie!
This mockup is made for 80s text effects but can also be used with photos.
Transform your image with this 80's retro Photoshop action and than add the image inside this PSD file.
About Photoshop Mockup Files
If you've never used Photoshop mockup files before and you are unsure how to use them, please take a couple of minutes and check out these great resources:
How To Use Photoshop Mockup Files
These Photoshop mock-up templates are extremely popular among graphic designers, saving them a lot of time and money. Among the most used mockups are logo mockups, text effects mockups, photo templates, etc.
Item Details
This freebie contains 1 PSD file for creating back to school flyers and posters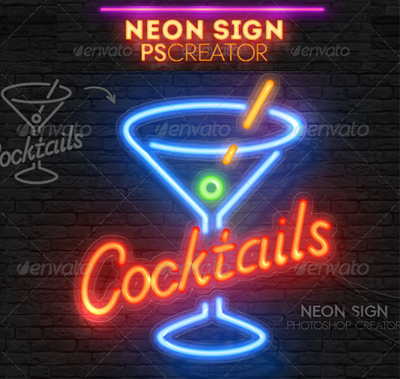 Download the NEON PHOTOSHOP ACTION
Do you like this item? Don't forget to Share! Thank you 🙂