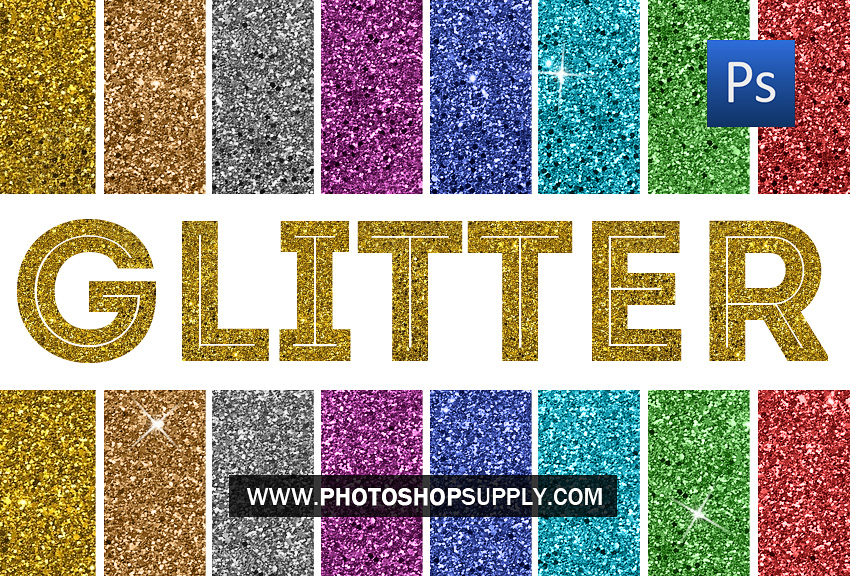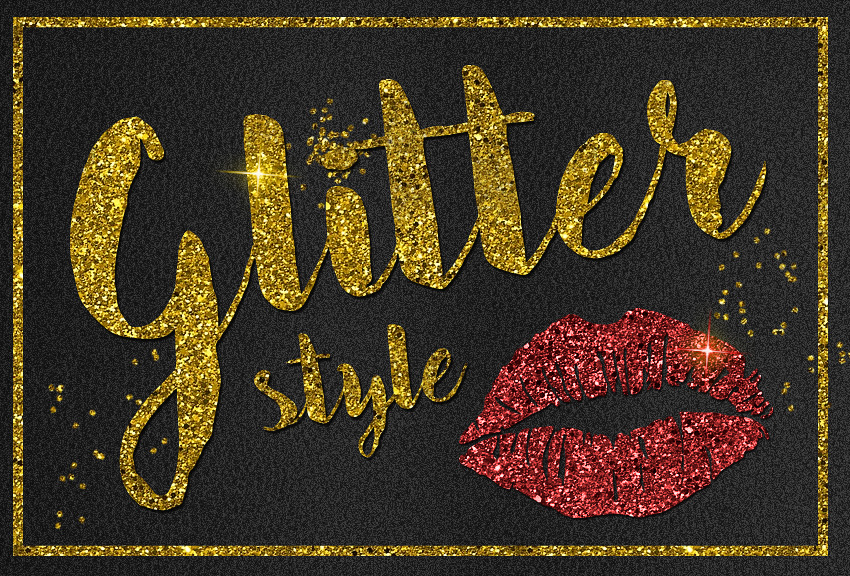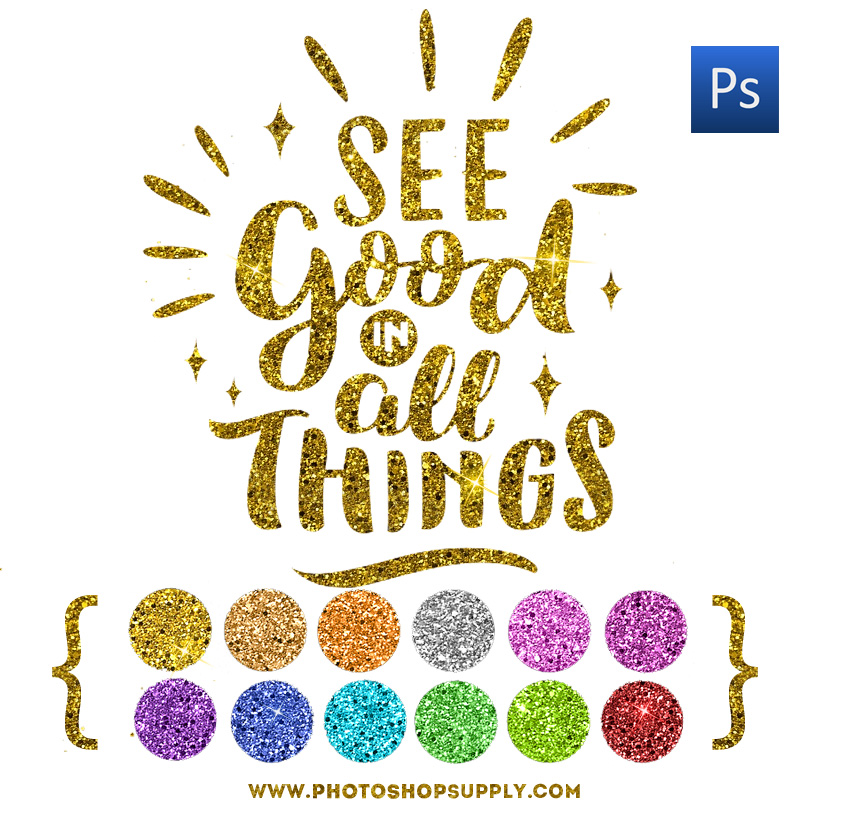 Free Photoshop Glitter Patterns
Download this set of 17 free Photoshop glitter patterns and use them to create glitter style text effects, glitter logos, etc.
Photoshop glitter patterns are useful in all kind of projects, to create cool backgrounds for example. You can use these sparkle glitter textures for digital scrapbook projects as well.
This set includes 17 seamless glitter textures that you can use in Photoshop.
Create glitter fonts and glitter letters in just a few seconds. These patterns work great will all kind of font types and typography.
Simply download the PAT file and you have some cool Photoshop glitter styles to play with. You can use these Photoshop glitter patterns to add sparkle  effects to your logos.
The gold glitter pattern is probably the most popular glitter color. But, in this pack you will also find pink glitter, silver glitter, red glitter and so on. Use a Gradient Overlay for mixing glitter colors to obtain interesting effects.
To create a glitter text in Photoshop all you have to do is to add a Pattern Overlay using the glitter patterns. Combine the glitter patters with these cool Glitter Photoshop Brushes.
So, if you need glitter patterns, this freebie is great! Make your own glitter text, glitter logos, glitter backgrounds with these free Photoshop patterns.
How To Make Your Own Digital Glitter In Photoshop?
Because there are so many cool things to do with glitter, you can make digital glitter yourself using Photoshop.
How to make digital glitter paper? Simply apply these patterns to a background in Photoshop.
If you want to create glitter texture from scratch use the Noise filter.
Choose to work with digital glitter; it is much more eco-friendly than the real one!
About Photoshop Patterns
If you've never used Photoshop patterns before and you are unsure how to use them, please take a couple of minutes and check out these great resources:
How To Install Photoshop Patterns
How To Use Photoshop Patterns
The Photoshop patterns are popular graphic design resources used to create backgrounds or to add texture to text, objects, etc. There are all kind of Photoshop patterns like floral patterns, wood patterns, paper patterns, pixel patterns, etc.
Item Details
This freebie contains 1 Photoshop PAT file(patterns) to make glitter in Photoshop.
Do you like this item? Don't forget to Share! Thank you 🙂