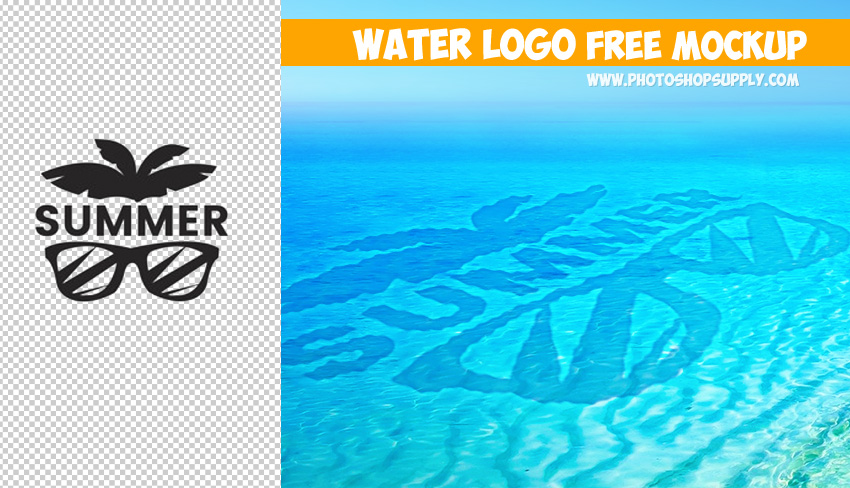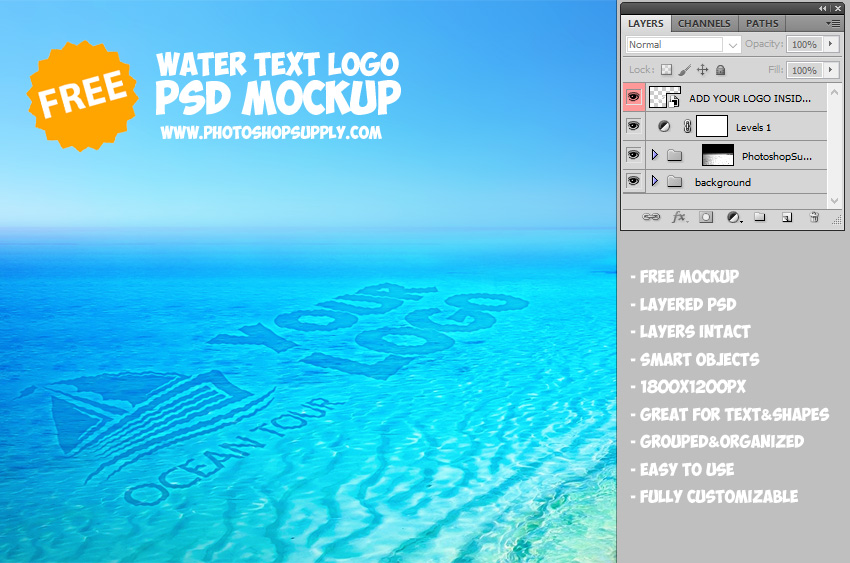 Ripple Water Text Logo Mockup PSD
Download this ★ ripple water text logo mockup PSD for free and use it to create a cool logo effect. This water logo mockup is great for water sports logos, summer travel logos, beach hotel logos, etc. The water effect PSD is fully customizable and it has all the layers intact.
It's easy! Just download the PSD file and add your text or logo inside the smart object. Save the smart object to see the result.
Create a cool  summer beach logo in just a few seconds. With this ripple water logo mockup you can create a water text effect in Photoshop. It is really easy and it can be done even by Photoshop beginners!
You can change the position of the water logo, you can replace the background, you can change the water color and so on. The mockup looks great for text, vector shapes, silhouettes and logos.
So, if you want to make your own sea water logo, this free Photoshop PSD file is just the thing you need!
You can make all the changes that you want. You can replace the sea water background with an image with the same perspective. You can edit the water layer styles to your liking.
To create a water text effect in Photoshop is not very difficult but it can take you a while to do it. This mockup will save you a lot of time.
The PSD has all the layers intact, contains editable smart objects and it is well organized in groups!
The logos used in the preview images are from freepik.
About Photoshop Mockup Files
If you've never used Photoshop mockup files before and you are unsure how to use them, please take a couple of minutes and check out these great resources:
How To Use Photoshop Mockup Files
These Photoshop mock-up templates are extremely popular among graphic designers, saving them a lot of time and money. Among the most used mockups are logo mockups, text effects mockups, photo templates, etc.
Item Details
This freebie contains 1 Photoshop mock-up file containing a water text logo creator.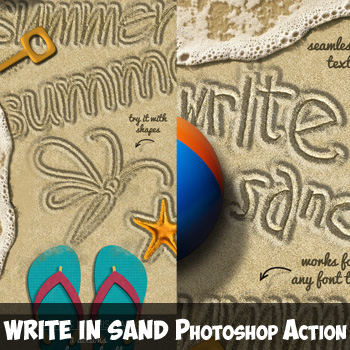 DOWNLOAD SAND WRITING PHOTOSHOP ACTION
Do you really like this item? Don't forget to Share! Thank you 🙂